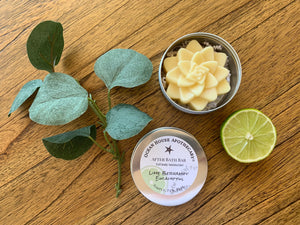 A fun, easy way for kids and adults alike to quickly lock in moisture after bathing - or to replenish hands after frequent washing. Simply warm our beautiful Lime Bergamot Eucalyptus After Bath Bar between your hands for a few seconds and gently rub onto skin. You'll enjoy the rejuvenating, fresh blend of lime, bergamot and eucalyptus essential oils - we think it smells like a tropical spa! Sweet almond oil is rich in essential fatty acids and vitamins A, B and E, and is wonderful for soothing dry, irritated skin while providing deep, lasting nourishment.
Our Lime Bergamot Eucalyptus After Bath Bars are made with only the following safe, skin-loving ingredients: Organic Sweet Almond Oil, Cocoa Butter, White Beeswax, Essential Oil Blend of Lime, Bergamot and Eucalyptus.

For external use only.
Approx. 2.5 oz succulent-shaped bar in reusable tin or clear, sealed bag