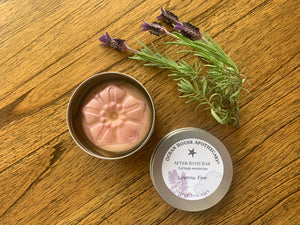 Refresh and delight your skin and senses with our new London Fog After Bath Bar! A fun, easy way for kids and adults alike to quickly lock in moisture after bathing - or to replenish hands after frequent washing. Simply warm this beautiful bar between your hands for a few seconds and gently rub onto skin. You'll enjoy the soothing, uplifting scent of lavender, bergamot and vanilla oil combined with warm, comforting cocoa butter. Pair with one or more of our other new London Fog treats for the perfect gift set, including bath bombs, mini facial balms, whipped body butter and a gorgeous highlighter + shimmer stick!
Our London Fog After Bath Bars are made with only the following safe, skin-loving ingredients: Organic Sweet Almond Oil, Cocoa Butter, White Beeswax, Blend of Lavender, Bergamot & Vanilla Oleoresin Essential Oil, Ethically-Sourced Mica.

For external use only.
*Please note that each bar is unique and the exact shade and distribution of the shimmer mica used may vary slightly from the picture shown.
Approx. 3.5 oz bar in reusable tin or sealed clear, compostable bag