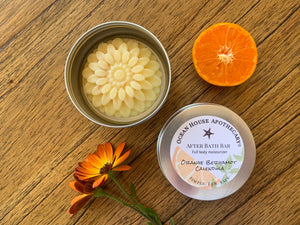 A fun, easy way for kids and adults alike to quickly lock in moisture after bathing - or to replenish hands after frequent washing. Simply warm our beautiful Orange Bergamot Calendula After Bath Bar between your hands for a few seconds and gently rub onto skin. You'll enjoy the uplifting, juicy blend of orange and bergamot essential oils combined with warm cocoa butter, and calendula extract adds an extra boost of skin-soothing properties. Sweet almond oil is rich in essential fatty acids and vitamins A, B and E, and is wonderful for soothing dry, irritated skin while providing deep, lasting nourishment.
Our Orange Bergamot Calendula After Bath Bars are made with only the following safe, skin-loving ingredients: Organic Sweet Almond Oil, Cocoa Butter, White Beeswax, Calendula Extract, Essential Oil Blend of Orange and Bergamot, Dried Calendula Flowers.

For external use only.
Approx. 3 oz dahlia-shaped bar in reusable tin or clear, sealed bag