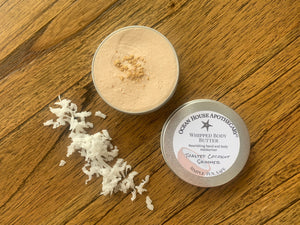 This scrumptious best-seller is back for a limited time! Feed your skin the vitamins and nutrients it needs while delighting your senses with our limited edition Toasted Coconut Shimmer Whipped Body Butter! Skin-loving ingredients like shea butter, organic coconut oil, grapeseed oil and aloe extract soothe and deeply nourish skin while the delicious scent of toasted coconut transports you to a tropical destination. Lightly scented and whipped to perfection, our body butter absorbs quickly without feeling sticky or greasy. These new beauties also have a hint of golden shimmer to give your skin the perfect subtle glow! Pair with our Toasted Coconut Lip Balm for the ultimate tropical treat.
Our limited edition Toasted Coconut Shimmer Whipped Body Butter contains only the following safe, skin-loving ingredients: Shea Butter, Organic Extra Virgin Coconut Oil, Grapeseed Oil, Aloe Extract, Arrowroot Powder, Vitamin E Oil, Phthalate-Free Coconut Flavor Oil, Ethically-Sourced Mica.
Directions for use: Apply evenly to desired area with clean, dry hands. A little goes a long way! For external use only.
*Please note that these butters will melt at high temperatures; if this happens, simply place your body butter in the fridge for 20-30 minutes or until it solidifies. The texture may change but it will still be just as effective!
2 oz in white or silver reusable tin