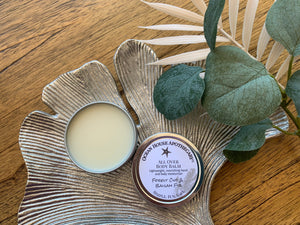 Protect and soothe skin with our lightweight yet deeply nourishing all-over body balm. Our body balm is smooth, easy to apply, and absorbs quickly without feeling sticky or greasy. It's also very concentrated, so a little goes a long way. Powerful plant-based ingredients like kokum butter, avocado oil and aloe extract protect and nourish while a grounding, soft woodsy scent delights the senses. You'll catch notes of bergamot, clove, amber, resin, frankincense, cedarwood, musk, and Haitian vetiver essential oil. 
Our Forest Oud & Balsam Fir All Over Body Balm contains only the following safe, skin-loving ingredients: Pure Avocado Oil, Kokum Butter, Cera Bellina Wax, Aloe Extract, Phthalate-Free Fragrance Oil, Vitamin E Oil. 
Directions for use: Apply with clean, dry hands to desired area as often as needed. For external use only.
2 oz in reusable tin