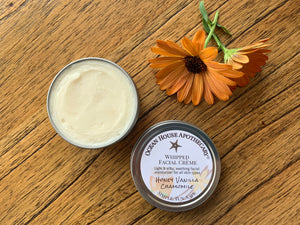 If you're ready for smooth, radiant, healthy skin this whipped facial creme is for you! We took many of the star ingredients in our best-selling facial balms, added a few power-packed new ones, and whipped it all up to create a slightly lighter yet still deeply nourishing facial creme. Pure avocado oil, kokum butter, lavender butter, calendula extract, raw Manuka honey, and a blend of lemon, vanilla and chamomile essential oils are whipped to perfection and provide numerous skin benefits. And the smell is intoxicating - subtly sweet, soothing, and uplifting ... we can't get enough of it! Pair with our Honey Vanilla Chamomile Whipped Facial Scrub and one of our best-selling Rejuvenating Facial Serums for the ultimate at-home facial. 
Raw Manuka honey - a natural exfoliator that gently removes dry, dull skin and reveals new skin cells underneath. Raw honey helps balance the bacteria on your skin, which makes it a great product to use for acne, and also speeds up your skin cells' healing processes. Look up the skin benefits of Manuka honey, in particular, and prepare to be amazed!
Calendula extract - packed with antioxidant, anti-inflammatory, antifungal, and antibacterial properties, this is one of nature's ultimate soothers. Calendula may also assist in slowing the development of fine lines and wrinkles.
Avocado oil - packed with nourishing vitamins like A, B1, and B2, this lightweight oil also feels silky on the skin.
Kokum butter - our favorite plant-based butter! It's high in Vitamin E, which helps promote cell regeneration and repairs and softens the skin; it attracts moisture to the skin; it has antioxidant and antifungal properties; it won't clog your pores; and it's rich and silky without feeling too heavy or oily. 
Our Honey Vanilla Chamomile Whipped Facial Creme contains only the following safe, skin-loving ingredients: Pure Avocado Oil, Kokum Butter, Lavender Butter, Cera Bellina Wax, Calendula Extract, Raw Manuka Honey, Arrowroot Powder, Vitamin E Oil, Organic Lemon Essential Oil, Vanilla Oleoresin & Roman Chamomile Essential Oil.
Directions for use: Apply a dime-sized amount to face and neck with clean, dry fingers after cleansing morning and evening, or when desired. A little goes a long way! If applying under makeup, let it soak in for a few minutes first. For external use only.
1 oz or 2 oz in reusable tin