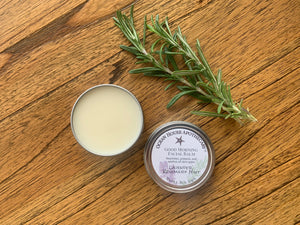 Greet the day with smooth, protected, happy skin! Our silky limited edition Lavender Rosemary Mint Facial Balm is lightweight yet deeply nourishing, smells amazing, and absorbs quickly without feeling sticky or greasy. It's concentrated, so a little goes a long way! Kokum butter, avocado oil and aloe protect, soothe, and rejuvenate while organic rosehip oil, tamanu oil and a refreshing, grounding blend of organic lavender, rosemary, and spearmint essential oil provide additional skin benefits. Pair with our new Lavender Rosemary Mint Shimmer Lip Balm for the perfect facial treat!
Our Lavender Rosemary Mint Facial Balm contains only the following safe, skin-loving ingredients: Pure Avocado Oil, Kokum Butter, Cera Bellina Wax, Aloe Extract, Organic Rosehip Oil, Tamanu Oil, Blend of Organic Lavender, Rosemary and Spearmint Essential Oils, Vitamin E Oil. 
Directions for use: Apply a pea-sized amount of balm all over face after cleansing, morning and night, or as needed. For external use only.
2 oz in reusable tin