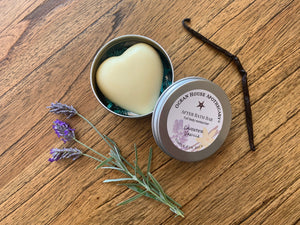 A fun, easy way for kids and adults alike to quickly lock in moisture after bathing - or to replenish hands after frequent washing. Simply warm our Lavender Vanilla After Bath Bar between your hands for a few seconds and gently rub onto skin. You'll enjoy the relaxing, fresh scent of real lavender and soothing vanilla essential oils combined with warm, comforting cocoa butter. This bar is also a great choice for using before bed to help unwind while adding moisture to the skin. 
Our Lavender Vanilla After Bath Bars are made with only clean, skin-loving ingredients: Organic Sweet Almond Oil, Cocoa Butter, White Beeswax, Lavender Essential Oil, and Vanilla Oleoresin Essential Oil.

For external use only.
Approx. 2.5 oz bar in reusable tin